Pittsburgh Photography Classes
Private
Photography
Lessons
Improve your photography skills with private lessons tailored perfectly to you. Learn what you want to know, when you have time to learn, in a location that's convenient for you. From complete beginners to working professionals private photography lessons can help you grow as a photographer.
Join a group class with other photographers and aspiring photographers. Improve your skills, grow as a photographer, and learn to take better photos. Group photo classes are available throughout the year covering a variety of subjects. Find a complete list of classes below.
Pittsburgh Photography Class List
Below is a list of the photography classes I'm teaching in and around Pittsburgh. If the class is hosted at one of my community partner's you likely need to register on their websites. For example, if the class is at the
Pittsburgh Botanic Garden
you'll need to sign up on their website.
Current Classes
If there are no current classes listed please contact me so I can update you as classes are schedule. Be sure to join my mailing list for class listings and loads of great free instructional content.
Learn From A Professional Photographer

My name is Don Orkoskey and I'm a full time working professional photographer. You're here because you're searching for photography classes near Pittsburgh taught by a knowledgeable working professional and experienced teacher who understands how to make complex concepts easy to master.
I'm professional photographer Don Orkoskey. Since 2007 I've taught photography classes in and near Pittsburgh to people just like you. If you love photography and want to quickly improve your skills sign up for one of my classes today. No matter how frustrated you are with your camera or how upset you are that the photos you try to take just don't seem to come out like you want I can help.
Wherever you are in your photography journey from absolute beginner to serious hobbyist and even fellow professionals looking to pick up new skills, I promise that I will help you quickly learn exactly what you're looking for. My goal is to make the complicated easy to understand. I will teach you the fundamentals of photography from the technical aspects to the artist. Together we'll have fun, we'll take a lot of photos. When we're finished you'll feel more confident. You will create the types of photos you've always wanted to create with joy, love, and skills that I promise we'll build together.
Contact Me About Photography Classes
Contact me about photography classes through this form. I can't wait to speak with you and help you improve your photography skills!
Current Photo Class Information
Here is more in depth information on all of the current photography classes near Pittsburgh and online which I'm teaching. You can also read about these classes on my blog or sign up for my newsletter to be the first to hear about new classes. Contact me if you have any questions.
Past Photo Class Information
Here is a list of some past photo classes. Because many of these will be taught again soon you may wish to contact me to find out when. You're also encouraged to join my mailing list to find out about upcoming classes.
Why You Should Take My Group Photography Classes
From the benefits of learning to create amazing photos to finding a community of people with similar skill levels there are many reasons you should take a group photography class. Keep reading to find out if a group photography class is right for you.
What You Will Learn
I cover a variety of photography subjects in my classes from beginner/introductory photography to more specialized and advanced classes. In my classes you can learn everything from landscape, wildlife, and macro photography to lighting and photo editing.
Photography Classes For Everyone
I offer photography classes for everyone. All ages, all skill levels, and regardless of the type of equipment you have. From phones to DSLRs and Mirrorless cameras, absolute beginners to working pros - my classes are for everyone.
Group Class Locations
I offer a variety of group photography classes near Pittsburgh through a number of partners including the Pittsburgh Botanic Garden, Phipps Conservatory, and others. I've spoken at garden clubs, schools, and worked in museums. I also offer virtual classes to photography students around the world.
Host A Group Class
If there isn't a group class listed which you're interested in contact me. I'm more than willing to work on finding new community partners to host a group photography class that works for you. Why not host a class with me. Contact me to discuss the benefits of hosting one of my photography classes for you and your group.
Benefits of Private Photography Lessons
My private classes are 90 minutes  to 2 hours each. No matter where you are in your photography journey I can help you master the skills you want in order to create the types of photos you want to make. Even if you've never picked up a camera before I can take you from absolute beginner to confident photographer in just a few weeks.
What You'll Learn
Here is some of what you'll learn in my introductory photography class:
Technical Aspects of Photography
Exposure
Focus
Camera Settings
Lens Choice
Color
Contrast
Artistic Aspects of Photography
Design Principles
Artistic Composition
Visual Storytelling
Advance Classes
Here is what to expect in advanced classes:
Wildlife Photography
Lens and Equipment Selection
Location Scouting
Wilderness Safety
Landscape Photography
Landscape Composition
Bracketing & Compositing
Weather & Location Prep
Macro Photography
Finding Subjects
Choosing Macro Equipment
Macro Lighting
Focus Stacking
Click here to read the Terms and Conditions for my online photography classes, photo classes near Pittsburgh, and private photography lessons.
Alternative Photography Classes
Here are some alternative photography classes near Pittsburgh you might want to check out. While I would love to teach more photography classes near Pittsburgh my other work as a photographer often prevents me from doing so. That doesn't mean you should have to wait to learn photography if you're ready right now.
Why I Provide This Information
I get a lot of calls, text, and emails asking when I'm going to host my next beginner's photography class, teen photography class, or another macro class. I really love that you want to learn photography. Because of that I want to make sure you're aware of all of the resources available to you. If I'm not available I don't want that to stop you from learning. These other photography classes near Pittsburgh may be exactly what you're looking for.
Add A Class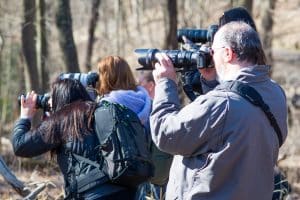 Let me know what is missing. For instance, if you know of a class or teacher you don't see below contacting me. Therefore, if they're not on my list it likely means I don't know about them. Since a lot of photographers teach one-off classes I don't always find out about them in time.  Additionally, if someone starts a new class since the last time I checked I may have missed it.
Because I love that you want to learn photography I'm happy to share this information. That's why this list exists. That said, I've included some classes which are only available virtually. As with all classes check to make sure they're still happening. Additionally, if you find a class that no longer exists please let me know. Finally, please feel free to share any information you want about these classes or hosts.
Let Me Know
If you sign up for a class let me know what you thought. I'd love to hear about your experiences! If you took a class and really enjoyed it contact me to let me know. This way I can add that information for other students. Likewise, if you had a bad experience let me know that as well. If I hear enough negative things I'll consequently remove a class from my list. However, please understand that this information is not a ranking or rating system. Therefore I cannot guarantee you will love classes you read about here.
Other Classes and Teachers Near Pittsburgh
Community College Of Allegheny County - CCAC offers a variety of photography classes. additionally, check to see if you're able to receive financial aid.
Pittsburgh Center for the Arts - PCA is in Shadyside. They offers a lot of great art classes including sculpture, painting, and photography.
Missy Timko - If you've got a DSLR and want to know how to use it check out Missy's classes. Because Missy is located in Mt. Lebanon her classes could be perfect if you're in the South Hills.
Manchester Craftsmen's Guild - MCG is a wonderful place and they offer free photography classes for PPS high school students.
Premier Imaging The folks at Premier are a great bunch of people and they offer a variety of classes including how to get your camera off of auto. Plus they've got a lovely store full of all sorts of fun photography products.
Pittsburgh Nature Photography Walks
Every month I lead the Pittsburgh Nature Photography walk in Frick Park or another city park. First, check the class list above for more information. Then make sure you arrive on time.
These walks begin at 9:30 am typically on a Saturday or Sunday. We typically meet in an easy to find place. For example, we often meet near the fountain by the Frick Environmental Center. Because the walks are sometime held in different locations be sure to check the information for the specific walk you're attending. Due to these walks being FREE they're a great opportunity to learn photography. Join us and enjoy spending time with and learning from other photographers.
Everyone Welcome
Everyone is welcome to join these walks regardless of skill level, age, or camera equipment. Therefore the walks are adjusted to meet the mobility levels of attendees. Because photography is for everyone and nature photography is a wonderful way to learn please be respectful of other attendees.
Since these walks are not a formal class there isn't a lesson plan or agenda. However, I will answer questions and am always willing to point out subjects, composition, and technical tips. That said, if you want extensive help please sign up for a private lesson. In addition, please be respectful of my time and allow others to ask questions. 
This Pittsburgh Nature Photography Walk is the only free photography-centered nature walk in the Pittsburgh area. Increase your skills as a photographer, learn more about nature photography, and find out about other nature photo opportunities. Because we have abundant parks and wild areas the chances to practice are endless. Join me monthly on this walk. Experience Pittsburgh's amazing changes of seasons while improving your nature photography skills.
Nature Photography Is For Everyone
Nature never criticizes your pictures, relax and experiment
Nature is patient, take your time photographing it
Nature is beautiful, you will appriciate it more through nature photography
Nature is great at teaching you how to make better photos
Nature forces you to improve your work through showing you amazing things you'll want to capture
Nature is abundant and we find nature in the tiniest of places from mud puddles to national parks
Nature is full of stories waiting to be told and it's easier to tell those stories before trying to tell our own
For those reasons and more I know that nature is a wonderful place to learn photography.
Street Photography
Are you interested in learning street photography? I can host a meet-up in downtown Pittsburgh for some fun street photography. Past street photography walks I've held met at the fountain at Point State Park. After this we walked through downtown. Because Downtown Pittsburgh is a great place for street photography these walks tend to attract large numbers. Consequently, street photography walks require registration and a small fee.
Pittsburgh has incredible buildings and artwork which provide the perfect backdrop for street portraits. Additionally, downtown Pittsburgh is full of a diverse group of people from a range of backgrounds. There are always friendly people who are more than willing to have their photos taken. If you're interested in a street photography walk through downtown Pittsburgh contact me and let's set up a date and time.
Virtual Photography Classes
Virtual photography classes are a great option for many reasons. First, they allow you to take a class no matter where you are in the world. Second virtual classes give you the opportunity to learn without spending time traveling to class. Additionally many people are immunocompromised making virtual learning a great way to engage with others while keeping their risk low.
Some prefer in person but virtual classes are a great alternative. This is a lesson that was driven home for all of us in 2020 and again with all the starts and stops we've had during the pandemic. Getting to meet and have some sense of normalcy with tools like Zoom has made things a bit more bearable especially in the early and very scary days.
Virtual Class Listings
Check out the list above for current classes which include virtual classes. If you don't see the class you want please contact me and let's talk about what you want to learn. I am always willing to share some information and might be willing to schedule a class on the topic you're looking to learn either as a private lesson or class if I think we can get enough students registered.
Previous Class Topics
Previous class topics have included the following:
Introduction to Photography
Phone Photography
Photoshop & Lightroom - Post Processing Your Photos
Macro Photography
Large Format Photography
Studio Lighting
Compact Flash Lighting
Posing Models
Camera Buying Workshop
Street Photography
Photography Storytelling
My Teaching Experience
I teach photography classes in Pittsburgh and virtually. My first class was a nature photography lesson in Frick Park back in 2007. Additional classes soon followed. Meanwhile I studied and worked with great mentors including Dr. Alice Wilder and Ernie Dettore learning about educational practices. Because of their guidance and leadership I successfully collaborated with the Children's Museum of Pittsburgh on a three year project. In addition, I worked with a number of other institutions teaching kids art and photography. Finally, I began to work with more regularly hosting classes with community partners such as Phipps and the Pittsburgh Botanic Garden.
As a full-time professional photographer I use the practical information that I teach every day. Therefore you can trust me to help you improve your photography skills quickly. Additionally I have been teaching photography, art, and more for nearly 2 decades. My classes are fun, interactive, and informative. I make sure to teach you how to solve problems when they arise. You learn how to create amazing photographs in the most challenging of conditions.
Fine Art Photography
Do you want to learn how to create fine art photography or how to use photography in your art, to capture your art, or to enhance your art practices. I'm available for fine art photography consultation, or to teach you how to incorporate your photography into your fine art practices.
Contact Me
If you're interested in taking a class either virtually or in person please use this form to contact me with any questions or comments. I can't wait to talk to you!